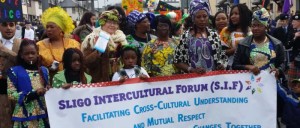 The Sligo Intercultural Forum provides an opportunity for exchange of good practice, experiences and ideas. Members have the opportunity to develop coordinated actions to address issues affecting the local minority ethnic community such as challenging and dealing with racism.
Objectives:
To promote minority ethnic communities participation and contribution to Irish society
To support individuals, groups and agencies working with minority ethnic communities in Sligo
To work strategically to identify issues affecting ethnic minority groups and respond accordingly
To provide a drop-in centre which meets the needs of the local ethnic minority groups.
We aim to provide a service which will increase awareness of and respect for ethnic minority, which will improve good relations between communities.

Goals
To serve as a cohesive and representative voice of minority ethnic communities living in county Sligo
To provide space and opportunity for ethnic minority groups to articulate their needs and contribute to finding solutions
To support the drop-in centre for ethnic minority groups
To provide information, education and awareness to the public
To promote better communication and understanding between ethnic minority groups and mainstream society.